08-16-2011, 10:18 AM
MirandaWright's
I <3 Disney



Posts: 995

Joined: Jul 2009

Reputation:

15
Disney Scrapper Pin Scam
Here's are photos of what was sent to me on April 2011 and May 2011 from two different Scrapper Sellers. I've sent the same photos (which should be clearer) to Dizpins for their list of Scrappers. The people who sent me these "catalogs" were selling them for 40 cents a piece if I bought 1000, or as low as 34 and 37 cents if I bought 10,000 pins. ONE SELLER EVEN TOLD ME I COULD SEND THEM PICTURES OF OTHER NEW PINS AND THEY WOULD MAKE THEM FOR ME! If you look at the photos of people selling bulk pins over and over again for cut-rate prices, you'll notice many many of these pins in their collections! Notice, many of the same pins are offered from different China scrapper sellers. (Sorry for the small pictures...you can enlarge on your screen.) There are lots of "hidden Mickey" pins and "mystery" pins in the mix here. THEY ARE ALL SCRAPPERS.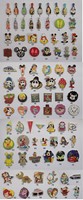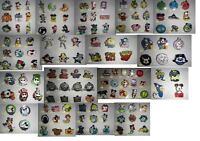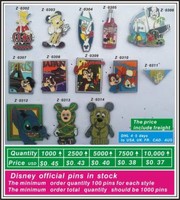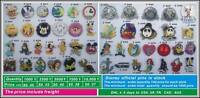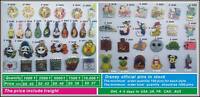 I've been getting these "catalogs" from Chinese Scrapper sellers since September 2009.

(I even got a Christmas greeting from these folks in December 2010...bizarre!)

Since then, I've gotten six other offers from various China and Hong Kong scrapper wholesalers. I've turned it over to Disney's VerO (anti-piracy group) but thought you'd find it interesting...
Dear chip_and_dale!,

Hi
We are from China,we have a large number of disney pins in the store.all of pins are high quality,the price is cheapest.
100-5000pcs is 0.8$ per pin
more than 5000pcs is 0.7$ per pin
the freight is free!
If you want to buy ,pls contact me in anytime!my email is _______________ (email address I removed)
looking forward your reply!

Sincerely!

Eva Gu
In September 2010, I received this letter:
Please see the E-mail attachment for the disney pins in stock and the price on the picture. The minimum order total quantity should be 1000 per pins. The minimum quantity should be 50 per pins for each type. The price including freight, this is the lowest price. Thank you and pleased contact us if you have any further questions.wish you every success in your business dealings. Looking forward to your prompt response.
Thanks and best regards,
Len
(phone number was removed by me)
I've since gotten three more "catalogs" from different Chinese scrapper sellers. I pass along the information to Disney's fraud division and to Dizpins, along with the pictures. But this type of email ought to make you angry...both at the Chinese scammers who are selling this sub-quality junk, BUT EVEN MORE SO FOR THE EBAY SELLERS WHO BUY THIS JUNK FOR 35 TO 40 CENTS AND THEN SELL THEM TO YOU, CLAIMING THEY ARE AUTHENTIC. THE PINS ARE

NOT

AUTHORIZED BY DISNEY FOR SALE!! They are fakes. Bootlegs...just like bootleg CDs or DVDs. And these people are selling them on eBay EVERY DAY by the thousands!
At least we're cutting their profit margins...their prices have dropped.
Go to Dizpins and look under their "Diz-ellaneouse" section for Counterfeit and Scrapper pins. The people who sent me their "catelog"'s pins are listed there...hundred and hundreds of styles. Get to know these pins and AVOID THE PEOPLE WHO SELL THEM UNLESS THEY CAN PROVE TO YOU THEY BOUGHT OR GOT THEM DIRECTLY FROM A CAST MEMBER LANYARD! (And even if they come from a Cast Lanyard, you have to be careful, as scrapper dealers in Orlando trade their scrappers onto Cast Lanyards too.)
=========================
CURRENT "HOT" COUNTERFEIT PINS AND SETS ON EBAY
The Carousel Pins.

Disney Pin Trading 10th Anniversary Series.

The 2010 Mystery Pins.

The Princess Teacup pins.

The Mickey Heads Epcot pins.

Hidden Mickey Surfboards

The Haunted Mansion Miniature Animal Tombstone Pins.

The Bowling Pin Mystery Series

Vinylmation Holiday Pins.

Mickey Statue pins.

Various Hidden Mickey pins.

Adventures by Disney pins (many of them).

The character flower name pins (cuties)

Jack Skellington various holidays pins.

Several Vinylmation Series

Mickey Head balloon series

Many many more...



After seeing these, look on eBay and see all the sellers selling these pins! Make note of these Sellers...a lot of them are Scrapper Sellers!!! Vinylmation pins, Hidden Mickeys and Mystery Sets are some of the biggest sets being offered by Scrapper Sellers!
By
chip_and_dale!

With permission
User(s) browsing this thread: 1 Guest(s)